全部
全部
产品管理
新
介绍内容
企业网点
常见问题
企业视频
企业图册



SPV-200RF X Ray Vehicle Inspection System Open roof no height limitation(Security checkpoint solutions)(Under vehicle scanning systems)
SECU PLUS X ray vehicle inspection system is designed to inspect the inside of vehicles. It can quickly and accurately identify threats/ contraband/ weapons hidden in the vehicle. SPV-200RF greatly improved vehicle safety inspection speed and accuracy, reduce investment in human resources.
X ray vehicle inspection system
X Ray small vehicle scanner
Chat Now!
Запрос цены
SPV-200RF X Ray Vehicle Inspection System Open roof no height limitation
No height limitation, no roof design
No limitation for the height of vehicle, allow the maximum vehicle to pass through
Drive-thru technology
Occupied vehicle scanning capability: passengers can stay in their cars during scanning process, driving them under their own power through the inspection portal.

Small footprint
The deployment of the SPV-200RF requires a relatively small ground surface without special requirements for additional infrastructure.

High penetration
The SPV-200RF produces high-quality X-ray images of inspected objects through 20 mm of steel at car speeds of 10 km/h.

High quality X-ray images
To ensure proper detect ability of the concealed objects, the SPV-200RF produces images with the 2% of the contrast sensitivity and 0.8mm copper wire detection capability.

Dual energy imaging
The SPV-200RF has an automatic color coding for materials separation (3 colors) feature allowing distinguishing between organic, non-organic and metal materials. This feature helps the operator to detect dangerous object from the various materials.

Radiation safety
The SPV-200RF ensures the low dose for driver and passenger operation (complies with ANSI 43.17
standard) as well as protection of the operator. The inspection portal is equipped with the video surveillance system to avoid the inspection of the passer-by's.

Technical Specifications:
General Specifications

2.6(W)m * unlimited height

Scanning Speed

5-10km/h

Typical throughput

100-120pcs vehicles/hour


Max Vehicle length

20m and extendable

Penetration

Application 20mm steel

Wire Resolution

Dia 1.0mm copper wire

Mix Dose to passengers

<0.2μsv/scan

Dose rate outside

Public area<0.5μsv compliant with IAEA standard

Power Consumption

Max. 2KVA

Operator 's workstation

PC-based workstation with the 24" LCD display

X-ray Generator(single)

Dual energy accelerator

200kv

Beam shape

Vertical fan-shaped beam

Operating Environment

Operation temperature/Humidity

-15ºC-55ºC/5ºC-95ºC(non-condensing)

Storage temperature/Humidity

-40ºC-70ºC/5ºC-95ºC(non-condensing)

Operation Power

220VAC(±10% ) 50±3Hz (Optional:100VAC,110VAC,120VAC,200VAC)

Computer

Platform:

Windows 10 operating system

CPU

Intel Core i7

Others:

HDD: 1TB, RAM: R4G/8G, Touch screen 24inch

Software

1 password-protected login of the operator

2 Automatic real-time display of the inspected vehicle

3 Brightness and contrast adjustment of acquired image

4 High-density and low-density objects display feature

5 Zoom in and pan functions(up to 8x), Black/white, color image, etc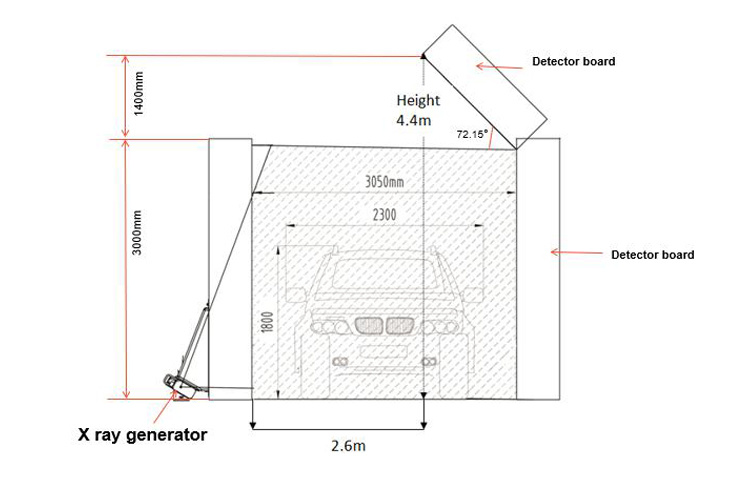 сведения
если у вас есть какие - либо полезные советы и замечания по нашей компании или вы хотите проконсультироваться с нашей продукцией, заполните следующий бланк и мы свяжемся с вами как можно скорее!