全部
全部
产品管理
新
介绍内容
企业网点
常见问题
企业视频
企业图册



AT8065B X Ray Baggage Scanner
Software password protection : All software features of machine are online and password Protected and all software features are controlled from key board of machine only
Chat Now!
Запрос цены
Multi-function Keyboard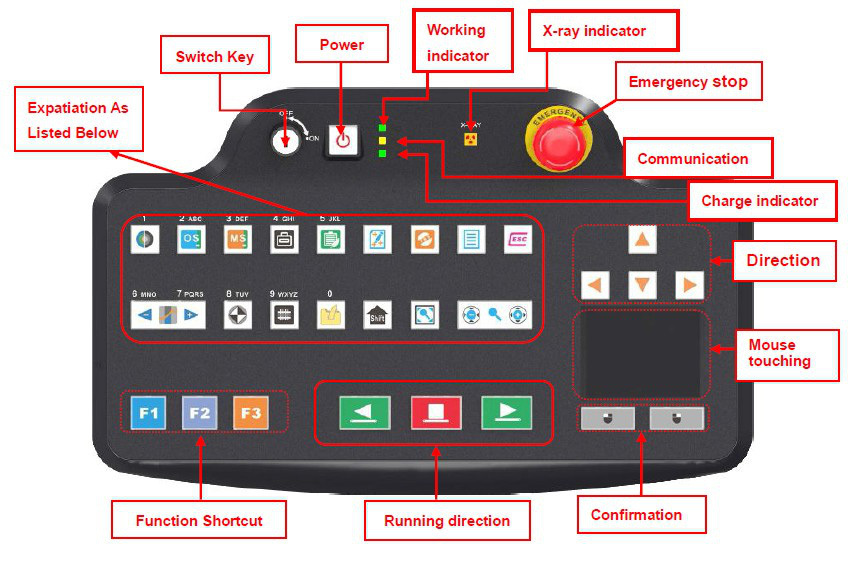 General Specification :
Dimension:2630L*1509W*1502 Hmm
Gross weight :700kg
Tunnel Size: 808(W)*650.5(H)mm
Conveyor Speed: 0.22m/s
Conveyor height : 304mm
Conveyor Max Load:200kg
Wire Resolution: 38AWG
Steel Penetration: 34mm
Film Safety : guarantee ISO 1600 film
X-ray Leakage: <1.0µ Sv / hr(at a distance of 5cm From external housing)
Image System :
X-ray Sensor: L-Shaped Photodiode Array ,16bit deep .
Monitor: High Resolution Color, double 17'' LCD
Image Processing: Black / white, Color, abundant energy , variable absorptive, elimination of inanimate matter, elimination of organism, super-enhance, reversed color, high energy penetration, low energy penetration, image strengthening, image lightening, reducing darkening.
Memory gray level : 65536
Image Max Resolution: 1024 * 1280 pixel
Image Processing: 24bit for processing real time
Image storage: Storage 100,000 pictures in real time
Image Recall: All preceding images recallable, retrieval.
High Density Region Alarm: Impenetrable region alarm and highlight, for possible concealing of
threats and contrabands
Zoom: 1-64 Times Enlarge, Whole screen continuous observation
Standard parts: menu, electricity testing, date/time display, auto-counting of objects detected, operator license number, maintenance record, system start up/ x ray generator, radial beam timing, operating mode display
Multi-energetic distinguish retrieval Objects: Selective detection of Objects by atomic number, organic objects in orange, inorganic objects in blue, mixture in green.
Assist to detect drug and explosive powder, according to the material composition characteristics
of explosives and drugs, this device can detect.
TIP function: Dangerous goods image is provided by the insert function (TIP), which can be convenient for training and assessing the operator's image and recognition ability.
Alarm System: If the machine fails to penetrate a particular item, then an visual alarm will be generated to notify the operator
Personal identification number: The Operator personal identification number can be entered through keyboards.
Software password protection : All software features of machine are online and password
Protected and all software features are controlled from key board of machine only
Online recording facility : The machine has online recording facility and images can
be transferred to external storage device through USB port.
Through put : 720 bags per hour for hand and checked baggage
X-ray Generator :
Beam direction : Downward
Generate anger: 80 degree
Anode Voltage: 160Kv
Anode power: 0.2 to 1.2mA (adjustable)
Cooling / Duty Cycle: Oil Cooling /100%
Computer Character :
· CPU: Intl (R), 2.6GHz
· Memory: 2GB RAM
· Hard Disk drive: 500GB
· Operating System: Windows XP
Other Characters
Keyboard Protection: IP43
Machine Protection: IP20
Dual direction scanning
Extension Stainless Steel Rollers: Optional
UPS (Uninterrupted Power Supply): Optional
Console: two LCD monitors, made in stainless steel. it have vents and transparent parts
1m length extended luggage ramp
LCD monitor: 19 inch (optional)
Operating Environment
Operation temperature/Humidity: 0℃-45℃/95%(non-condensing)
Storage Temperature/Humidity: -40℃-60℃/95%(non-condensing)
Operation Power: 187~240VAC , 50-60Hz
Power Consumption: 1 KW
Noise: <58db
сведения
если у вас есть какие - либо полезные советы и замечания по нашей компании или вы хотите проконсультироваться с нашей продукцией, заполните следующий бланк и мы свяжемся с вами как можно скорее!